Mar
30
Jenelle Evans has been accused of so many things.
Substance abuse. Being unable or unwilling to perform her duties as a mother. Breaking an entering. Breaking Britany Truett's face in this epic beatdown.
A plastic surgery addict, though? That's a new one!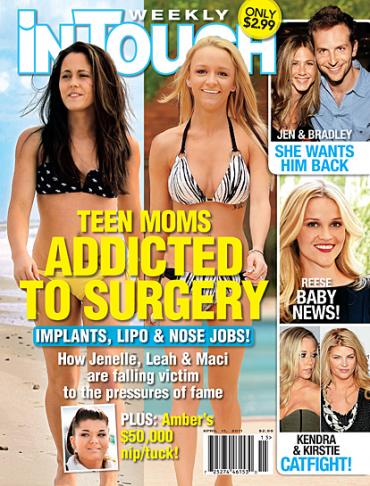 Too bad Jenelle can't have a brain implant done.
Also calling out Teen Mom 2 star Leah Messer and original cast members Amber Portwood and Maci Bookout, In Touch says the surgical craze is widespread.
Even if this were true, does anyone care?
Amber and Jenelle have both been arrested for pummeling other human beings in fairly shocking fashion. All of the above girls got pregnant at a very young age.
There's so much to debate already - is Teen Mom bad for society, what's best for the kids, whether these loons should be in jail, etc. What's a little plastic surgery?